My second son Eli has been physically adept from the moment he was born. It seemed like he reached all the physical milestones way too early! Perhaps it is because he is trying to keep up with his older brother. Whatever the case, Eli started walking when he was ten months old and he has been running, climbing, and keeping me on my toes ever since!
In our latest adventure, Eli somehow figured out how to climb out of his crib late last week. This is NOT good because this is the kid that has been opening doors for a few months. I was sure we were in for trouble, but then he didn't do it again....
until Wednesday night. You knew it had to happen eventually, right?
When we put Eli to bed that night he climbed out of bed and opened his bedroom door after a few minutes. So Honey Daddy put him back in bed and told him "No, No!". After a few minutes he was at it again. This time I went and put him back in bed and told him it was time to go "Night-night" and he needed to stay in bed.
This went on for the next half hour or so. Finally Eli gave up and had cried so much that he fell asleep. I figured that he would learn to stay in bed when we put him down and then he would just sleep through the night and our problem would be solved.
Not so! At about 4:30 a.m. we woke up to the sound of little feet on the kitchen floor. Eli climbed out of his crib in the middle of the night, opened his door, and was walking around upstairs. How scary is that?
So Honey Daddy closed the flip latch on the back door and put Eli back to bed. Then I spent the next half hour or so putting him back in bed until he eventually gave up and went back to sleep. I spent the next hour or so listening for the little monkey to make sure he stayed in bed.
Needless to say, I didn't get tons of sleep that night... and neither did Eli, which made for a long day. I got to go shopping for door knob covers in hopes of keeping Eli stuck in his room, if not actually in his bed.
By nap time that day Eli was so exhausted that he went to sleep without any problems. Then when Honey Daddy got home he took the front railing off the crib temporarily so that Eli can actually get back into bed when he gets out.
Eli seemed delighted to be able to get into and out of his bed this evening. He wasn't so thrilled when we put him to bed and he discovered that he could not get out of his bedroom.
It looks like this weekend Honey Daddy will work on getting the other bunk bed frame set up in Eli's room. Then we will be off to buy a mattress. I guess Eli has decided that at 18 months old he is done with the crib and wants a big boy bed!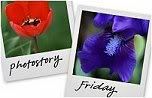 Hosted by Cecily and Angie