While shopping some sales, I found a cute shirt for Jonah that just happens to have a picture that glows in the dark. He was so excited to wear it! He wanted to see it glow the minute I took it out of the drawer. I told him that first the shirt needed to "charge up" in the daylight and then he would have to look at it in the dark.
A short while later Jonah asked, "Is my shirt charged up?"
"Probably," I replied, "but you need to go somewhere really dark to see it glow."
"Ok, Mommy." He said. "Wanna see my shirt glow?"
"Sure." I said.
"Watch this mommy!" Jonah said excitedly as he walked to the coat closet, opened the door, walked inside (by himself!) and shut the door.
"Does it work?" I asked, trying not to laugh.
"Yes! Look mommy, it's glowing!" He replied. When he came out of the closet I asked him again if his shirt worked. He said, "Yes! It glew!"
I couldn't help but laugh. Kids can be so funny sometimes!
This is the same boy that while we were out walking, pointed out a rock an insisted that I take a picture of him sitting on it. This is a welcome change from the "don't point that camera at me" phase we went through last year!
Besides, who am I to argue with this cutie pie?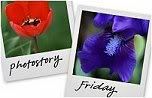 Hosted by Cecily and Linds