Last week I put little Eli down for a nap, and he protested about it for a couple of minutes. No big deal, it happens rather frequently, right?
After a few minutes his room was really quiet, so I assumed he had gone to sleep right away.
When Eli woke up a few hours later I sent Jonah in to say "Hi" to him while I finished working on something. Jonah walked in Eli's room and immediately shouted, "Mommy! Come look what Eli did!".
Apparently Eli did go to sleep, but not right away. First he had reach through the crib bars to empty the contents of the baby wipe container...
directly into his bed
. Did I mention that I had just filled up the container of wipes?
I don't know how he managed to fall asleep even though his entire bed was soaked! He was more than a little soggy himself!
I guess I learned my lesson... never leave the wipes on the bench next to the crib!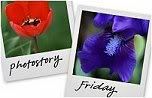 Hosted by Cecily and MamaGeek