The weather this week has been cold, wet, windy and dismal. This morning there was an inch of snow on the ground!
Aren't we done with winter yet?! Spring means
rain
not snow, right?
I could write the month of March a sarcastically humorous letter or two, but I guess you could say I've
been there
and
done that
. It appears that all I do lately is moan about the weather. I know it's March, so it's not supposed to be sunny and beautiful the entire time... but the teasing is driving me crazy! We get some gorgeous warm days and I have a blast outside with the boys... then BAM! we get a snowstorm, it's absolutely freezing, and we all get stir-crazy stuck indoors for days at a time.
Is March always like this? Is this Spring really
that
unusual, or do I suffer from some sort of weather amnesia?
To be honest, I can't really remember what the weather was like in March last year. You see, I was a bit preoccupied with
something
someone else.
With little baby Eli I was a bit too busy to be thinking about the weather. By the time I was ready to go out, the weather was lovely.
This March Eli is not so little anymore, and my two active boys want to be out and about RIGHT NOW! Luckily it looks like this latest storm has moved past us for now and next week is supposed to be warmer and drier. I guess I may not go crazy after all.
Hooray for April!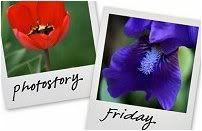 Hosted by Cecily and MamaGeek