Dear March-
Why must you taunt me so? Just when I thought that we were going to be agreeable and enjoy some time together, you just had to go and ruin everything!
I thought we had decided that this whole "in like a lamb, out like a lion" thing was just a silly superstition and we could dispense with the "lion" part all together. I even praised you in my last post, and the beautiful flowers that you brought me. Then you went and did the unthinkable.
That's IT! Look at my poor, cold, yellow babies! I just don't think we can be friends anymore.
Go ahead. Have your little tantrum this weekend. Blow off some steam and rain on my parade all you want. I am SO over you. I always liked April better anyway.
Honey Mommy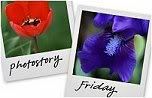 Hosted by Cecily and MamaGeek