Undoubtedly my neighbors think I am a little crazy. This afternoon I was out in my front yard, raking the snow around. I could almost
feel
the questions flying through the air in my general direction.
What is she

doing

?
Is she raking... the

snow

? Why?
Is it some kind of snow Zen garden?
Nope. If you must know I was raking the mounds of snow onto the dry spots on my lawn so that all the snow would melt off my lawn more quickly. It has actually been pretty decent the past few days and my snow is starting to melt. Hooray!
So maybe I am a little crazy. Either that or extremely ready for Spring.
There is one thing that I will miss once we finally stay above freezing for more than a few days at a time... the HUGE
ice castle
not far from our house. The boys want me to drive by it every time we go
anywhere
in the car.
Can you blame them?
Standing near the base, looking way up.
Check out the intricate shapes.
Watch your step!
They light up the ice castle at night, so I had to drive by on my way home from work one night to snap a picture. Pretty, huh?

To give you some idea of the size of this thing, these smaller columns are taller than I am! The entire castle is actually taller than the
creator's house
!
So although we will not miss winter or the snow, I think my boys will miss watching the
ice castle
and how it grows and changes.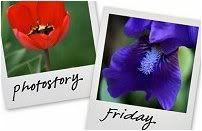 Hosted by Cecily and MamaGeek