About a block and a half from our house they are in the process of constructing a new church building. This means that there are excavators and tractors and all kinds of construction equipment that I don't know the names for! Needless to say my two-year-old is in heaven.
Consequently we have to go on a walk nearly every day to see the progress they are making and check out what equipment is on the site. Here is a picture of Jonah from earlier in the week. He LOVED this excavator and wanted to "get closer".
little boy
and the
HUGE
... um, whatever. I am pretty sure Jonah would LOVE it if we could just take this sucker home!
Sorry buddy... I don't think that will fit under the Christmas tree!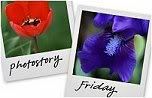 Hosted by Cecily and MamaGeek