The festive leaves are one of my favorite parts of Fall! I love the way they brighten up the trees and the way they crunch underfoot.
This afternoon I took the boys for a walk around the neighborhood. We saw some lovely leaves along the way. This next photo just makes me think of warmth and reaching for the golden sunshine.
The Aspens around our house are starting to change colors too. I love the way these little round leaves look when they blow about in the breeze.
All too soon the leaves will fall off, which always makes me a little melancholy. Winter is not my favorite time of year. Do you still have leaves on your trees?
I am participating in Photostory Friday...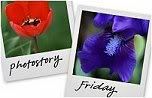 Hosted by Cecily and MamaGeek

and Haiku Friday