Have I told you that Eli is into everything?
He knows how to use a stool, chair, toy box or anything else that is handy to reach those places that mommy and daddy thought would be "safe".
Eli has brought me coins from the top of the dresser, daddy's glasses from the counter, and even a pair of scissors from a drawer in the kitchen. It seems that nothing is safe from Mr. Sticky Fingers!
He has also figured out how to climb up nearly anything to get what he wants. I have caught him with his feet on the lower cabinet knobs in his attempts to grab items on the counter. We even caught him hanging on one of the kitchen drawers the other day while it was pulled out. He got in trouble for that one! Especially when drawer face fell on my foot yesterday morning as I tried to open it! OUCH!
It seems like some mornings when I am trying to get showered and ready after aerobics class either Eli is getting into something he shouldn't, or Jonah and Eli are trying to play together and someone ends up crying.
So it seems the best place for him when I don't want him to get in trouble is under my watchful eye. One particularly trying morning I set him down on the bathroom counter while I flat-ironed my hair. Can you guess where he ended up?
In the sink, of course! Ah well, at least he didn't get
too
wet!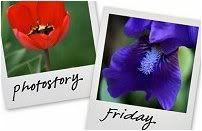 Hosted by Cecily