This morning I finally got around to organizing little Eli's clothes. His 12 month shirts have been looking a bit small lately, which is not surprising since he is 19 months old now!
So I packed up his 12 month clothes and got out the 18 and 24 month clothes. As I put his "new" clothes in the drawers, I couldn't help but remember what Jonah looked like in those same clothes. It seems to me that Jonah was wearing them just yesterday, and I can't believe that Eli is big enough to wear them now.
He is getting to be such a big boy! I took a picture of him last week and noticed that he is starting to look more like a boy and less like a baby.
My baby boy no longer sleeps in a crib. He climbs up on everything and is not afraid of anything! My baby boy doesn't walk, he runs!
My baby boy is starting to talk so that we can actually understand what he is saying. He wants to do everything his big brother does and thinks he can do it all by himself!
I guess my baby boy is not a baby after all.
Isn't is amazing the difference a year can make?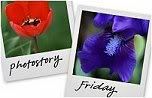 Hosted by Cecily and Kelli