Yippee! It looks like this weekend we are due for some relief from our hot weather, just in time for Honey Daddy's century (100 mile) bike ride on Saturday.
Lately by the time 10 am rolls around it is already over 80 degrees, with temperatures reaching the mid 90s most of the time. It was so hot I didn't really want to take the boys outside too much. Their little faces turn beet red after being outside for 10 minutes because it is so toasty out.
The heat has almost made me want to drive back to my parent's house in Wyoming where it is usually at least 10 degrees cooler than here. Plus there are some gorgeous things to see not far from my parents' house.
Refreshing isn't it?
We took a little drive up the canyon to go to Cottonwood Lake when I visited last month. It was a beautiful evening and I got lovely pictures of the river, flowers, local wildlife, and of course the lake.
My boys thought the lake was great fun. Grandpa skipped rocks and it was all I could do to keep my boys from going in too far... especially the little guy.
We tried to have fun this week by playing in the water at our house, so I got out the little pool and filled it. The bummer is that you fill it when you want to use it, but the water is FRIGID. The first time we tried to get in I had little boys with chattering teeth.
So we decided to wait a bit. Then last night we were too busy to play in the water. Today the water is finally warm... just as the thunderstorms roll in and the wind is throwing dust all around. It is supposed to rain tomorrow and Saturday, so I emptied the pool this evening.
Oh well! I guess we'll try again next week.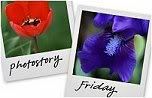 Hosted by
Cecily
and
MamaGeek