Honey Daddy and I have been watching the Tour de France for the past couple of weeks. Since I have gotten into cycling in the past year, I find the Tour much more interesting.
I used to think that the Tour de France was just a bunch of guys riding around France as fast as they could for a couple of weeks. Actually there is a lot more to it than that! The riders are all on teams and there is a lot of strategy involved. Once you really pay attention to the sport, there is a lot more to it than most people think!
Now that I consider myself a cyclist, I am amazed at the strength and speed of the riders in the Tour. Especially when they are cycling so far each day, and climbing up steep mountains.
When I took the boys on our road trip to Wyoming last weekend, there was something else I took with me.... my bike. I was hoping to get some riding in after the boys had gone to bed in the evening, and fortunately I did!
One of my goals was to ride from my parents house up to the top of what the locals call "South End". It is the mountain pass you have to go over to get out of Star Valley traveling south.
I wasn't sure if I could do it because it is pretty steep.
Yep... you read that sign right. I went up about a 7 percent grade for three miles! No idea how steep 7 percent grade really is? It looks something like this:


My neat-o GPS said that I did about 929 feet of climbing in the 9 miles or so from my parents house. It took me a little over 50 minutes to get to the top... but the view up there was lovely.


It was actually getting pretty dark by the time I got to the top (what can I say? I took these photos later... you didn't think I lugged my Canon up there on my bike, did ya?). Luckily it only took me about 22 minutes to get back to my parents house because it was all downhill and I was going fast! Like over 35 miles per hour fast!
Some people don't think cycling is a very exciting sport, but as Honey Daddy would say "Let's throw you out of your car at over 25 miles per hour in your underwear and see how boring you think that is!"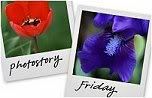 Hosted by Cecily and MamaGeek