I am having one of
those
days.
I didn't sleep well at all last night and have basically been
awake since 5 am
.
The boys
didn't sleep
past 6:30 am either.
Eli peed out of his diaper this morning, so I got to clean that up.
Then I ended up changing three diapers within a half hour or so. We are having a
poopy day
.
I changed Eli's clothes
twice
before 10 am (and
not
because of the diapers).
Our plans for fun this morning
fell through
... so I had to figure out what else we were going to do.
Certain small people are
feeling cranky
and Honey Daddy is
too busy
at work this time of year to chat with me.
Nothing incredibly horrible has happened today. Just a bunch of little things, and for no apparent reason I am feeling
overly-emotional
.
I need a vacation.
Me. the beach. the shuuush of the water. a tall, cool beverage. peace and quiet.
Oh well. This is about as close as I'm gonna get:
Nevermind... I forgot we already emptied the pool.
Guess we'll go have a picnic at the park.

Thanks for letting me whine.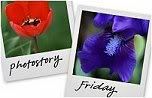 Hosted by Cecily and MamaGeek