Happy Fourth of July Weekend!
When we went to the zoo last month we went to the avian show. It was great fun, and I had a nice time experimenting with my zoom lens. I saved this shot just for this occasion. Very patriotic, don't you think?
Tomorrow my hubby is home and we are looking forward to a weekend of fun and friends. We are not huge fans of fireworks, but we will be watching our town's fireworks show not too far from our house. I am sure the boys are going to love it!
Hope you have a good one!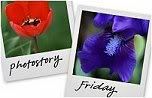 Hosted by Cecily and MamaGeek