I love old-fashioned play equipment. It isn't too often these days that you see a park with a merry-go-round on it. I guess it is "too dangerous", along with some of the other equipment I remember playing on as a child.
Here are my boys, having a great time on the merry-go-round (and yes, it was going round and round!).
I love this picture, and all the credit goes to Honey Daddy.
He was letting the boys take some time to play at a park last weekend while I was out
riding 103 miles on my bike in one day
(someday I'll stop bringing that up, I swear!).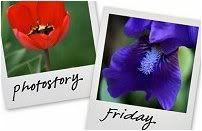 Hosted by Cecily and MamaGeek