This has been the weirdest weather year I can remember. First there was the
snowstorms in April
, and now this month we have had nothing but rain. Isn't it supposed to be April showers, not June showers?
Someone besides me is confused... I think it's Mother Nature.
Nearly Every day this month we have had clouds and thunderstorms off and on all day. Last time I checked Utah doesn't have a monsoon season, does it?
It has been so soggy that we haven't been able to play outside very much. We have also spotted some visitors to our lawn that we have never really seen around here before:
I don't know about your, but I would rather have more sun and less mushrooms!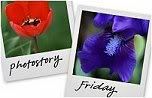 Hosted by Cecily and MamaGeek