It snowed yesterday. The weather has been so strange this year that I can't say I was particularly amazed to see snow in April. Instead I grabbed my camera and took a picture of my tulips in the snow.
I was pretty sure that the snow would all melt away soon enough anyway. Then I woke up this morning to a veritable winter wonderland! We had accumulated 5-6 inches of snow overnight.
Instead of letting it ruin my day, I grabbed my camera and ran out before the sun started burning all the snow off the trees. I got some pretty cool shots.
When I went back in the house I was greeted by Jonah who said to me, "Mommy, I was thinking about making a snow angel."
Why not?!
I thought. How often do you get to make a snow angel in April?
This evening the snow is almost gone, and they are predicting temperatures in the 70s by Monday. So maybe next week I will post pictures of the boys in shorts! Crazy, huh?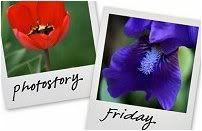 Hosted by Cecily and MamaGeek