It has been HOT here during the middle of the day. I guess I can't complain too much about temperatures in the 90s, since I used to live in Tucson, which is like the surface of the sun in the summer.
To beat the heat we have pulled out the kiddie pool to keep the boys cool and having fun while it's hot outside. Did I mention that I LOVE this pool? Nothing to inflate or pump up and the thing stores nearly flat. It is fabulous!
Needless to say there has been lots of sunscreen, splashing and water fun. Aren't they cuties?

We have also been working on our pool rules and etiquette. It is ok to splash and run around and have fun, but it is not ok to dump large quantities of water directly on your brother's head. If you do not follow this rule, then mommy will be sorely tempted (forced, even!) to dump a bunch of water on your head and see how you like it to try to teach you a lesson.



(Then mommy will have to laugh and take your picture while you insist that she has done you bodily harm by getting your head wet... what a mean mommy!)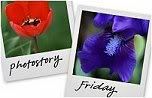 Hosted by Cecily and MamaGeek