At the end of our town's annual Strawberry Days festival, they have a "Huck Finn Day". There are pony rides, a fish pond, face painting, a donut walk, and other kiddie games.
So why is it called Huck Finn Day? Well, there is a low spot in the park that they fill with water to make a pond. Then they put fish in it that you can try to catch if you would like.
My boys were not particularly interested in the fish... just the water.
Maybe a little too interested...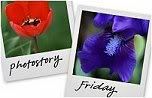 Hosted by Cecily and MamaGeek