My little baby turned one this week, so of course we had to have cake! I made Eli a little birthday cake just his size. At first he seemed a bit puzzled by the whole experience:
So we helped him get a little taste of the cake. It was all over for the poor cake after that!
Mmm! This is yummy... and sticky!
He would alternate between eating bites of cake and squishing it in his fingers. Then he would shake his hand, trying to figure out how to get the sticky stuff off his fingers. It was hilarious!

I think he really enjoyed his birthday cake (and the bath that followed). What do you think?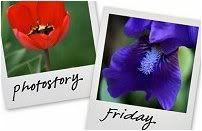 Hosted by Cecily and MamaGeek