Last night I was outside with the boys, playing in the sandbox and in the yard as the sun was going down. The weather has been pleasant, but still cool enough that we were wearing jackets.
As we ran around the yard a little speck of white caught my eye.
These are the only two blossoms that have popped out so far. I am hoping the rest wait a couple of days. We are supposed to get a storm by Monday, and I don't want the blossoms to freeze off! I have plans for those apricots!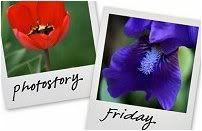 Hosted by Cecily and MamaGeek