The weather is starting to warm up here, and we are SO happy. We have been suffering from the worst case of cabin-fever ever!
The weather this weekend actually got above sixty degrees. Needless to say, we were outside in the sandbox most of the day and Jonah had a blast!
Here is Jonah looking over his little kingdom.
And for all of you who felt bad for little Eli in the post below, here is proof from the same day that I actually got him to smile... while wearing the scary shoes.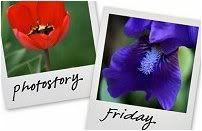 Hosted by Cecily and MamaGeek