Earlier this week my husband was helping Jonah get ready for bed. There was quite a bit of giggling and laughter involved. Somehow Jonah ended up with his pajama bottoms on top of his head.
I told him that they looked like bunny ears, and he proceeded to run like a madman around the house. What a silly boy! We ended up with a lot of pictures of him that pretty much look like a little blue blur. Here is one where he is standing still for a moment.
I told Jonah to go stand by the couch so that Honey Daddy could take his picture. Then he totally struck a pose. Isn't this hilarious?
Do you think that when he's older he will forgive me for posting a picture of him in his underwear with his pajama bottoms on his head? Hmmm... if you don't tell, then I won't either!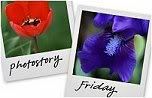 Hosted by Cecily and MamaGeek