It has been snowing BUCKETS outside today! I have personally shoveled
at least
six inches of snow off of our driveway! To gather more pity, I should mention that my driveway is HUGE. We have a carport as well as a two car garage. That makes for a lot of cement!
In addition to being a lot of work, the snow has been fun today... for my two-year-old at least! While I was shoveling he was having fun snow adventures. So a couple of times I had to take a break and get out my new camera (ooh! ahh!) to take some pictures. I will definitely have to post the pictures soon... not to mention the latest happenings of our snowman nativity.
For now you will have to be content with some photos I earlier in the week. I was scoping out locations to take family photos, when I ran across some nice scenery. Can you believe I have a photography gig already? It's like a dream come true!
Isn't this gorgeous? You would want your winter family photos in front of bushes like these, wouldn't you?
These stone steps with the snow slowly melting off of them really caught my eye. I love the look of this picture!
Finally, here is a picture of our Christmas tree. My husband was playing with the settings on the camera to see what kind of pictures we could get of the tree. I really liked this one. I love the way the lights look like stars nesting in our tree.
So pretty!
I am starting to get so excited to share Christmas with my husband and two little boys! It is going to be great! I won't even have to do any shoveling because we will be in Tucson for Christmas.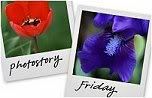 Hosted by Cecily and MamaGeek