A month ago I
petitioned the Tooth Fairy
to help little Eli's teeth come in. I was uncertain as to whether I should ask her for help, or just go straight to Santa Claus. Well, the Tooth Fairy must have passed my request along because the day before Christmas we discovered that Santa had granted our Christmas wish. Both front teeth had finally broken through the gums!
Look Mom! My two front teeth!
Isn't it wonderful that for his first Christmas little Eli got what he really wanted?! Merry Christmas little guy!

We had a great Christmas and we hope you did too!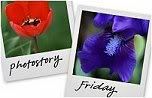 Hosted by Cecily and MamaGeek