Fall is left behind
Like leaves scattered on the ground
I will miss you so!

The above photo was inspired by one that I saw on
Wayfaring Wanderer's site
. In her
original photo
she had a field of leaves, with a grassy heart in the middle. The minute I saw it I knew I wanted to find some red leaves to make a heart. It became something of an
obsession
art project for me. I actually ended up "borrowing" some leaves from my friend Melinda's yard to use with all the yellow leaves we had scattered around. I love the end result!
I am so sad that most of the leaves around here are gone. The ones that are left are brown and yucky. I guess that all good things must come to an end. I'll have to wait another year to see Fall again.
Inside of my home, however, there are things that I have been overjoyed to see. My two little boys are figuring out how to play together, and it is the most adorable thing EVER!
Jonah will get down on the ground and say "Eli, come here! Come this way!". Then Eli tries to follow and catch up with him, giggling all the while. He thinks it is a great game... if only Jonah wasn't so fast! Eli also wants to play with whatever Jonah is playing with. Here are the two boys this weekend playing with blocks.
Jonah is definitely learning to tolerate Eli more and do a better job of sharing toys with him. It's fun to see them start to play together. (They both got haircuts on Saturday too. I think Eli's hair is so fuzzy and cute!)
I have even caught Jonah encouraging Eli to come into his room. Then he closes the door so Eli can't get out. I guess that way he has a captive audience! Either that, or they are already forming a "boys only" club. I think it's pretty funny.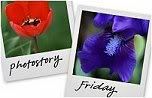 Hosted by Cecily and MamaGeek

and Haiku Friday.