This morning Eli decided to wake up at 4 a.m...
ugh!
I certainly did not want to get up that early, so I gave him his Binky and told him to go back to sleep. At about 5:15 a.m. I got my second wake-up call. Apparently Eli was soaked and wasn't going to put up with it anymore. So by the time I finished changing his diaper and clothes I knew I would have to feed the poor boy.
After he was fed and back in bed, I decided to just go downstairs and get my workout in for the day. I pedaled 20 miles on my bike trainer and by the time I was finished Jonah had joined me and was watching Curious George.
When that was finished we went back upstairs. I could tell that Eli was awake for the day, but he sounded pretty happy in his bed. So I told Jonah I was going to take a quick shower. He is a well-behaved boy and I don't have any problems leaving him unsupervised for a few minutes.
When I got out of the shower Jonah came running into my room and said, "Mommy, I gave Eli a toy to play with!"
"How nice!" I said, "Thanks buddy!"
When I was dressed I walked into Eli's room to get him out of his crib. This is the sight that greeted me:
Apparently Jonah didn't just give Eli
a
toy... Jonah gave him
every
toy in the room. What a super-nice brother, huh?! I was laughing SO hard!
I am participating in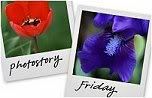 Hosted by Cecily and MamaGeek