I know I usually do a haiku on Fridays, but this week I just couldn't think of one! So I thought I would give Photostory Friday a try.

I often go past this little old truck when I am out riding my bicycle. It is near a little produce stand and I've meant to stop for a while now. Something about the dilapidated truck and the HUGE wooden pumpkins in the bed of the truck caught my eye. I thought Jonah would get a kick out of looking at them. So we stopped on our way home from taking photos in a pumpkin patch for one of my friends. Jonah though the pumpkins were fascinating!
He climbed in the truck and looked around. He even gave the pumpkins a hug! I liked this photo the best though. It gives you a good idea of just how BIG those babies are!
After seeing my
pumpkin patch photos
, one of my friends asked me to take pictures of her kids with the pumpkins. While we were at the pumpkin patch, I got another cute one of little Eli. Doesn't he look completely happy? What a cutie!
So that's my first photostory Friday. How did I do?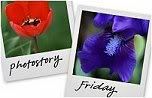 Hosted by Cecily and MamaGeek