At the beginning of this week we had our first big snowstorm of the season. We had three inches of snow on our driveway when got up in the morning. I don't really enjoy snow that much, but so far my boys seem to love it!
After breakfast we got all bundled up and headed outside. Daddy shoveled some of the driveway earlier that morning, so we went out to finish the job.
My driveway is HUGE, so it's a good thing I had such great helpers!
We bought Jonah a little shovel last year because he wanted to shovel with Daddy SO badly! This year it seems that we may need to get
another
little shovel. Don't you think so?
Eli was so funny! He kept trying to use one of our big shovels to "help" mommy. It was so cute and I love my helpful little munchkins!
In the end we had to take turns using the little shovel, and the boys loved helping out. Then we took a little time to play in the snow. The first thing Jonah wanted to do was make a snow angel.
Then Eli tried to do it too. He basically laid on the ground while kicking and wiggling his feet up in the air. It was so cute! I really wish I'd had my video camera because I was laughing so hard!
I am glad that my boys enjoy the snow. It makes the cold and wintry weather more fun for their mommy too.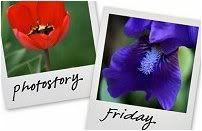 Hosted by Cecily and

Rachael