For Thanksgiving I had planned to put up a post full of photos of the things that I am most thankful for. Then this afternoon I got busy doing this instead...
I think it was time well spent, don't you? Jonah and I had a great time making hand print turkeys together!
I also realized that what I am most thankful for can be summed up in this photo:
My husband and two beautiful sons fill my life with love, happiness and laughter. I am so thankful they are a part of my life.
I am doubling up on Wordful Wednesday and Photostory Friday so I can spend more time with my family. Have a fun holiday weekend!
Happy Thanksgiving!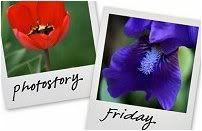 Hosted by Cecily