The weather was so nice earlier this week that Honey Daddy rode his bike to work. Later in the afternoon I thought I saw him ride into the carport on his bike. So I told Jonah he could go outside and say "Hi!" to Daddy.
Then I put on Eli's shoes and we went outside. When we got outside, what do you think I found?
Nobody.
I could not see Honey Daddy or Jonah anywhere! I started calling for Jonah, but nobody answered. Then I started to panic. What if I didn't really see Honey Daddy riding in? What if Jonah went outside and somebody took off with him?!
I was freaking out! Then our neighbor told me he saw Jonah on his tricycle following after Honey Daddy, so I set off down the street with Eli on my hip.
I caught up with Honey Daddy and Jonah in the parking lot of the nearby church. It seems that Daddy wanted to go on a cool down ride, and Jonah went with him. Honey Daddy invited Jonah to go with him and didn't think to tell me! I was relieved and a bit peeved at the same time. But Honey Daddy apologized for not telling me before they left the house.
The funny thing is that I actually had my camera with me because I went outside to take pictures of the cricket Jonah had found. So I took some photos of my guys on their bikes together.
So what do you think? Will Jonah be a cyclist like his mommy and daddy someday?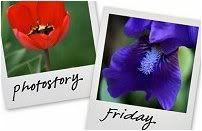 Hosted by Cecily and She's a moron and can't remember...