Last week one of the stickers came off the bottom of Jonah's motorized bobcat while he was playing with it. At first Jonah was putting the sticker on my face, but I didn't want it so it ended up on Eli's head.
Eli just giggled and ran around with the sticker on his forehead. When I actually got close enough to read the sticker I laughed out loud. Then I had to go get my camera and take a photo (of course!).
(Click for a close-up if you can't read the sticker!)
Unfortunately when I removed the sticker there was no mute switch to be found! Too bad kids don't work that way, huh?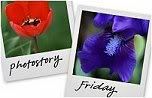 Hosted by Cecily and MamaGeek