I love, love, LOVE this time of year!
It is finally starting to cool down a little bit! This means that we can actually play outside during the day and visit parks we haven't been to in a while because they aren't shady enough (for mommy, who would melt!).
Recently we visited what my kids call the "Castle park". It has wonderful wooden play equipment that my boys just love! We invited some friends to go with us and had a blast. It was wonderful to be outside, enjoying the cool breezes and the sunshine.
There was so much to do! Jonah and his friend Amelia loved playing the chimes.
Amelia and her little brother practiced their spelling with the alphabet blocks.
The kids enjoyed everything! The swings, the slides, the wood chips, the cool air, the sunshine. I took my zoom lens and managed to capture a shot of Jonah that I really love.
He is doing such a great job balancing on the beam don't you think?
For some reason this picture of my son achieving balance reminded me about my struggle sometimes in seeking a balance between my many roles -- wife, mother, friend, librarian, sister, daughter, teacher, student, individual. I have yet to find the perfect balance, but as long as I'm moving forward I figure I am making progress, right?
"Live a balanced life - learn some and think some and draw and paint and sing and dance and play and work every day some."
--Robert Fulghum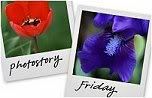 Hosted by Cecily and MamaGeek