Summer is starting to slowly give way to Fall, and I love this time of year! The temperatures have cooled down about 10 degrees during the day, and it is deliciously cool in the morning and evenings.
Fall is not too incredibly different from Summer for us because we don't have anyone in school. However it does change our daily activities.
One summer staple has been the pool, but now it is starting to get too cool for our little pool. It doesn't really get hot enough during the day to warm up the water. So about a week ago we had some friends over for the last splash of the summer.
Don't you just love how Jonah and his friend have their eyes shut tight while they splash with their feet? After all, you don't want water in your eyes!
As you can see, Eli loves to splish-splash too!
The pool kept many small people happy when it was "too hot" to want to do anything else. Now the swimsuits are washed and the pool is all rolled up.
It's a bit sad that summer is almost done, but now we get to look forward to playing outside... even in the middle of the day!
Playing in the park, riding bikes around the neighborhood, digging in the sandbox, running around the yard, taking walks ... the possibilities are endless.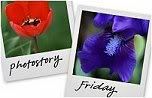 Hosted by Cecily and MamaGeek