This weekend Jonah got to spend quite a bit of time with all of his cousins, including the ones that we usually only see once a year. One of these cousins is a thirteen-year-old boy named Andrew, and of course he has an iPod. Once this weekend he let Jonah borrow his iPod for a little while.
Do you think Jonah liked it?


I don't mind Jonah checking out the iPod for a while, but what I do mind is when Andrew told Jonah that he needed to ask Daddy for an iPod!
Hey now! I am not ready for my three-year-old to turn into a teenager just yet!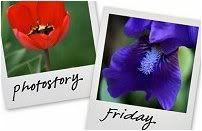 Hosted by Cecily and MamaGeek