This week we have finally had some beautiful weather! Sunshine and temperatures above sixty degrees... hallelujah!
Tuesday evening while I was laying outside on a blanket watching clouds with Jonah, I noticed a little visitor to our yard. Our first butterfly of the year! I was so excited to see this little guy, so I ran into the house to get my Canon XSi and my zoom lens.
I was sure that he would be gone by the time I got back, or that he would be too far away on the top of the tree to get a photo. Can I just say how amazing my camera is?
Spring must really be here to stay.
Happy Spring and Happy Easter!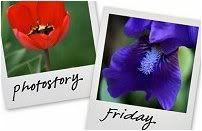 Hosted by Cecily and MamaGeek