This week it seems that the elements have been having a bit of a battle, while the boys and I watch from inside our warm house. In the morning it will be snowing, windy and miserable-- only to have all the snow melt a few hours later while the sun tries to break through the clouds.
Regardless of the weather, we
still
occasionally have to go on a quick walk to look at the construction equipment where they are building a church near our house. After all, what little boy doesn't like BIG tractors?
Earlier this week we woke up to find a layer of slushy snow covering everything. When I went outside to assess whether the driveway needed to be shoveled (or if it would all just melt later), I discovered some interesting tracks across our lawn.
After staring at them for a minute, I decided that they definitely were NOT dog or cat paw prints.
I'm not a boy scout, so I didn't know what kind of prints they were. There seemed to be only one thing to do... I grabbed my camera and snapped a couple of photos. After doing some research online (I
am
a librarian after all), I think they could be raccoon tracks.
I could be wrong though because I know I haven't
seen
any raccoons here in the suburbs. What do you think?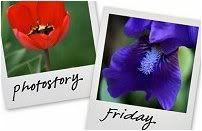 Hosted by Cecily and MamaGeek