Last summer we experienced the joy of the city installing a secondary water system. You know, the kind that you are required to hook up to within so many days or you get a huge fine. Nice, huh?
Anyway, a little ways from our house is a pipe factory, and they chose the streets adjacent to the factory for
dumping
stacking all the purple pipes until they used them. So they should be gone by now, right?
Think again. I took these photos this afternoon. Welcome to purple pipe lane.
I do have to say that there are a lot less pipes than there used to be. They are a lot less purple too. Months of rain and sunshine will do that to ya!
I wonder
when (if ever) the pipes will disappear.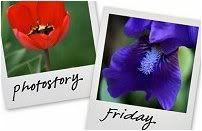 Hosted by Cecily and MamaGeek