January can be a tough month for me. So I often find myself looking around to find something inspirational. Though the view of sunshine and melting snow out my front window helps a little bit this week, sometimes I like to look through all the fun photos that I have taken recently.
Here is a spectacular shot that we took during our travels at the beginning of the month. As you head north, just before you get to Hoover Dam there is a scenic viewpoint. It caught my eye on our way south and Honey Daddy said we could stop on our way back.
If you look closely there seems to be a little oasis with palm trees at the bottom of the river. Looks like a nice place to stop and rest for a while.
The funny thing about this photo is that when you are traveling you really have no idea that this lovely view is ahead until you turn a corner and there it is! One moment you are traveling along rolling hills that go on forever and all of the sudden you find this view of the lovely gorge.
I feel like my life is about to turn that corner (I hope!). My sons are going through some awkward transitions at the moment. My two year old is hovering on the point of no longer wanting
(dare I say needing?)
an afternoon nap. I keep trying to put him down for one and sometimes he takes one. Then there are the afternoons like today where he sits in his room and talks to himself (and his toys) for an hour. I am not quite sure what to do about it because I don't want him to wake up his borther. Plus, I know that some days when we are stuck inside he doesn't burn enough energy to need a nap. *sigh* If he doesn't take a nap anymore I don't know how to still get in
my time
.
My sister lets her kids watch a movie while they have quiet time in the afternoon so she can have some time for herself. I think it's a pretty good idea, but I don't know if I want Jonah watching that much TV. He already gets to watch two movies a week with Honey Daddy on the evenings that I go to work.
Eli is transitioning from baby to toddler. He wants to walk SO badly, but just isn't there yet. He is hovering between taking three and two naps a day. If he only takes two naps, then he doesn't seem to quite get enough sleep. If he takes three naps, then they seem to be short and he stays up later. So we have been trying to stick to two naps in the hopes that eventually they will stretch out to be the length they need to be.
Right now am not fond of this part of my road with all it's ups and downs, but I know it will get better. We will figure this stuff out. I am holding on to hope that there is a scenic view just ahead. :o)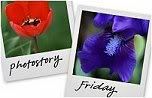 Hosted by Cecily and MamaGeek