Earlier this week we took advantage of the warm weather here on vacation in Tucson and went to the zoo. Jonah and Eli had a great time looking at all the "aminals". I think Jonah's favorite part was feeding the giraffes.
Check out that tongue!

I love giraffes. I think they are beautiful animals and it was fun to see them up close.

I played photographer while Grandma showed us around the zoo. I love this picture of Jonah and his grandmother.
Our other favorite part was seeing the elephants. The boys got to sit on an elephant statue, which they enjoyed. I took this picture of a nice little statue they had and then noticed that the live elephant was right behind it. Nice, huh?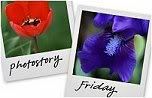 Hosted by Cecily and MamaGeek